The Burning Hell's sixth album, PEOPLE, was recorded in Berlin in 2012 while most good citizens were watching the Euro Cup. As the title suggests, this record is about different kinds of people: Amateur Rappers, Holidaymakers, Realists and Barbarians all make an appearance, among others, in uptempo, wordy story-songs that dig into the details of the folks they represent.
PEOPLE will be co-released on April 16 by (weewerk) and Headless Owl Records, on CD and limited-edition LP. In Europe the album will be simultaneously released by BB Island.
The Burning Hell is the alter-ego of songwriter and ukulele-slinger Mathias Kom. Loosely based in St. John's, Newfoundland, Canada, The Burning Hell has toured across various continents since 2007, playing everywhere from festivals to bars to living rooms – and once even a mental asylum in rural France. In 2012 the band broke an unofficial world record, playing 10 shows in 10 countries in 24 hours.
The Burning Hell has garnered acclaim for their hyperactive live shows and their caustic yet sincere lyrics, believing as they do that songs about the inevitability of death can also be fun to dance to.
Digital Downloads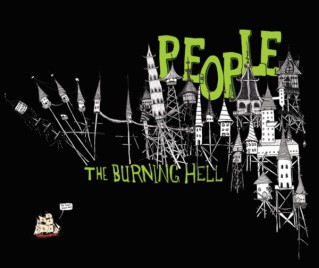 People
(weewerk 041)2013