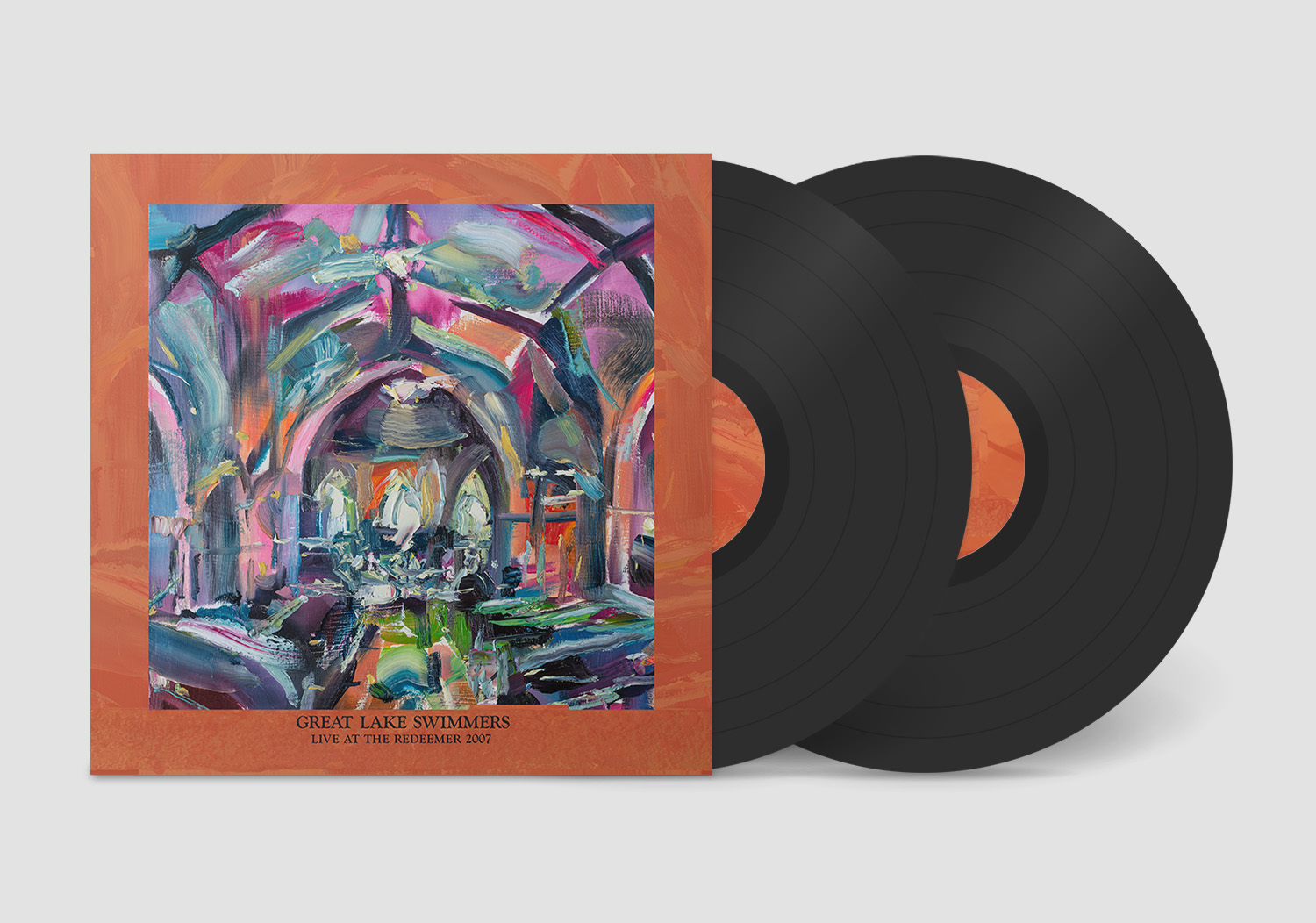 GREAT LAKE SWIMMERS ARE RELEASING THEIR 2007 PERFORMANCE AT TORONTO'S CHURCH OF THE REDEEMER ON BANDCAMP ON MAY 7 AND ON VINYL / DIGITAL PLATFORMS ON MAY 14, 2021 ON (WEEWERK) – PRE-ORDER LIVE AT THE REDEEMER 2007 HERE
Great Lake Swimmers shared the live version of "I Am Part Of A Large Family" from their upcoming release Live At The Redeemer 2007. Set for release as a vinyl double LP and on digital platforms via (weewerk), the concert capped off the band's Canadian spring tour of 2007, just days before the group continued on to embark on a full European tour to support the newly released album Ongiara.
"This live version of 'I Am Part Of A Large Family' has one of my favourite Great Lake Swimmers live band lineups," says songwriter Tony Dekker. "Bob Egan on dobro, Owen Pallett on violin, and Basia Bulat on backing vocals, alongside the core four-piece band at the time. There is an energy in the performance which is absolutely intrinsic to that place and time. The live version rivals the album version in my mind, and really flourishes once the band gets going, transcending the sum of its parts."
MORE ON LIVE AT THE REDEEMER 2007
Live At The Redeemer 2007 was originally recorded for CBC Radio broadcast by producer and engineer Ron Skinner, with live sound mixed by Andy Magoffin, who also re-mixed and mastered the recording for this release. The album is notable not only for the grand acoustics of the church, but for the raw first impressions of songs that would become fan favourites, as well as notable guest appearances by Basia Bulat (backing vocals), Owen Pallett (violin), and Bob Egan (pedal steel) in addition to the band's core lineup. The live set is comprised of songs from the first three Great Lake Swimmers albums; Self-titled (2003), Bodies And Minds (2005), and Ongiara (2007).
"As I write this, we are very near to the year mark of a pandemic that has put much of the world into holding patterns of lockdown, isolation, and closures," says Dekker. "It has been devastating on many levels, but there are silver linings; for me, it's been a chance to press pause and reflect, with part of that being a look back, and taking stock. That has led to, in this down time, the opportunity to go through the archives of Great Lake Swimmers live recordings from over the years, and a few things were found that I think are worth sharing.
What you hear on this record is the official release show for our album Ongiara, recorded for radio broadcast by the CBC on April 14, 2007. It was the first time that the new songs were performed in front of a hometown, Toronto audience, and it capped off a tour of Ontario, Quebec, and Western Canada. Days later, we were en route to Europe for a month of tightly scheduled tour dates there. And following that, a whirlwind month-long tour of the U.S. brought us up to a string of summer festival dates. It was a busy year, and looking back on it now, I'm not sure how we survived it. It was the first time that it felt like the music was starting to reach a wider audience.
For this particular show, we were lucky to have local friends and collaborators help expand our four-piece band at the time to a seven-piece, which includes Owen Pallett on violin, Bob Egan on pedal steel, and Basia Bulat guesting on backing vocals. At one point I'm also on stage alone with my guitar.
Spaces have always been important to me, from where the albums are recorded to the rooms in which the songs are shared. Playing and singing in interesting acoustic places, like old halls, and churches, especially, draws out performances that I think have a special quality that you can't quite put your finger on, but can feel are there; notes swirling together in a big open room, bathed in natural reverberation. As a singer, I feel that the performance is transformed by the space, as if it were another instrument, or a member of the band. The space completes the song, in a way, and I think there is evidence of that here."
On the recording of the performance, engineer Ron Skinner notes: "I've been recording live music for the CBC for more than 25 years. Over the course of my career I've had the great honour of recording hundreds of beautiful live performances.
It is no secret that Great Lake Swimmers' Tony Dekker likes beautiful acoustic settings. And Toronto's Church of the Redeemer is definitely that. But more than that this location seems like the perfect spot for a Great Lake Swimmers concert. A beautiful, serene sanctuary right in the heart of a loud and busy city. I think you can hear that juxtaposition in the performances on this recording.
My stress levels are pretty high on the day of a live recording. The combination of the logistics, the long day and the adrenaline rush of recording live often makes it hard for me to enjoy the music. I generally get to experience the joy of the recording a few days later when listening back alone in the mixing studio. Now, hearing this recording again almost 14 years later, I remember it was a great day."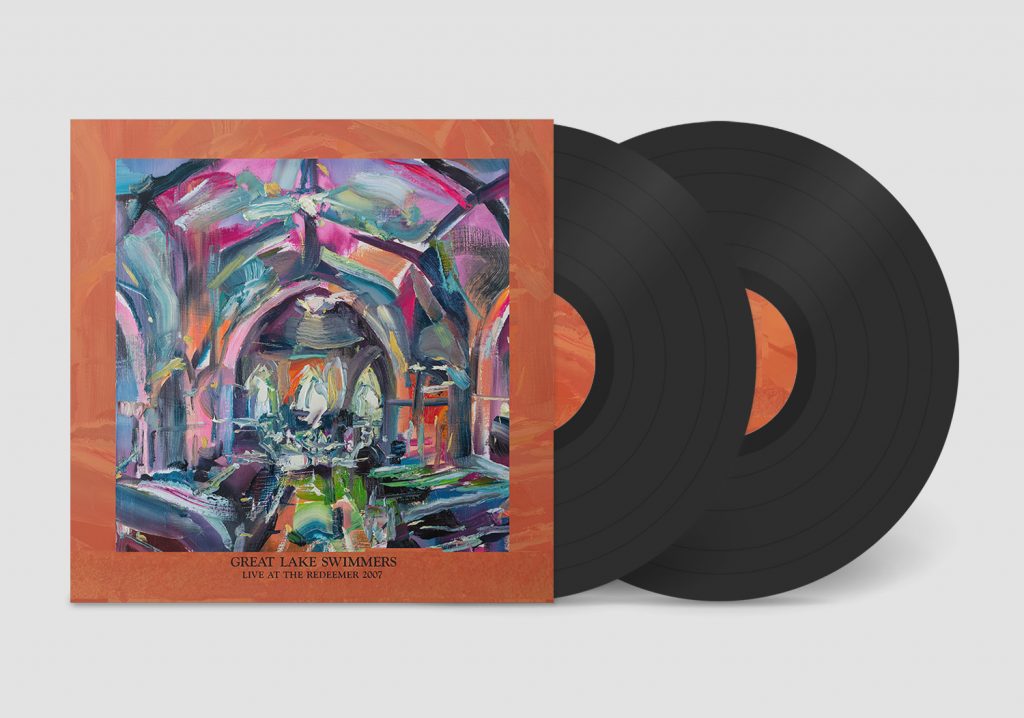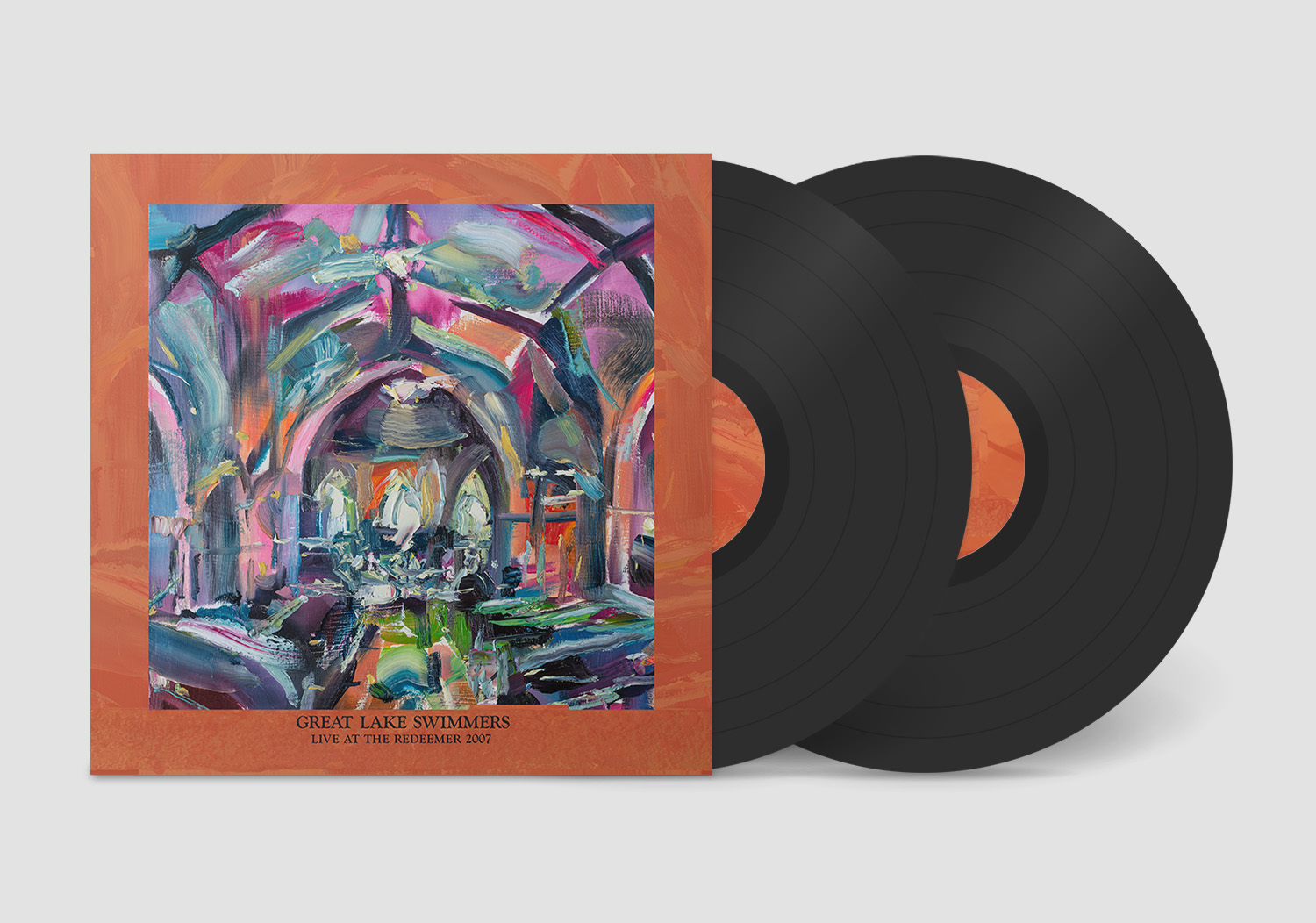 LIVE AT THE REDEEMER 2007 TRACKLIST
01 Your Rocky Spine
02 Backstage With The Modern Dancers
03 Various Stages
04 Bodies And Minds
05 Put There By The Land
06 I Am Part Of A Large Family
07 Changing Colours
08 Moving Pictures Silent Films
09 There Is A Light
10 Let's Trade Skins
11 I Will Never See The Sun
12 Passenger Song
13 Where In The World Are You
14 Song For The Angels
15 I Became Awake
16 Imaginary Bars
CONCERT REVIEWS FOR GREAT LAKE SWIMMERS AT THE CHURCH OF THE REDEEMER, APRIL 14 2007
"I've seen a number of musical performances in a few of the churches on Bloor St, but this was my first at this particular house of worship and I think it sounded far and away the best…everything sounded stunning. Everything. The performances were note-perfect, the mix perfectly balanced and the church acoustics everything you'd hope they'd be. It would be possible to go on at length (even moreso) about how good it sounded, so let's just say it sounded better than you could possibly imagine." – Frank Yang, Chrome Waves
"It was my first time seeing a show in Church of The Redeemer which is a quaint, old church situated in downtown Toronto, conveniently off the subway line….Through roughly an hour and a quarter's set of material Tony Dekker performed his set through a variety of configurations. There were awesome full-band performances like set-opener "Your Rocky Spine", "I Am Part Of A Large Family" and "Moving Pictures Silent Films" (a strikingly beautiful song already made even better by Basia Bulat's lovely vocal touch). It was good news to hear from Tony that the evening was being recorded by CBC Radio, presumably for radio broadcast but hopefully also for a live album release if we could be so lucky." – Michael Ligon, For The Records