A Documentary Film by Greg Kohs
Original Score by T.Dekker/Great Lake Swimmers
Everyone has their favorite NEIL DIAMOND song and so does TONY DEKKER of the GREAT LAKE SWIMMERS. Dekker wrote an original music score for the powerful and moving documentary, SONG SUNG BLUE. Over 8 years in the making, Song Sung Blue tells the alternately inspiring and tragic love story of LIGHTNING & THUNDER, a homegrown MILWAUKEE husband & wife singing duo that pay tribute to the music of NEIL DIAMOND.
Known for his dreamy and heartfelt vocals, DEKKER wrote and performed over 30 minutes of music for the doc, including an uplifting cover of NEIL DIAMOND'S 1972 chart topping classic, SONG SUNG BLUE for the film's closing credits. "The honesty and emotional warmth of Tony's music provides an intimate texture to the film's 'captured not contrived' style of storytelling" said 10-time Emmy Award-winning filmmaker GREG KOHS. Song Sung Blue is Kohs feature film directorial debut.
A big fan of GREAT LAKE SWIMMERS, Kohs approached Dekker regarding the project following a gig in Philadelphia. "I instantly connected with the film's genuine nature. I had not heard of Lightning & Thunder before this, but their story resonated hugely. I love every moment of the film, and am extremely proud to be a part of" said Dekker.
ABOUT THE FILM
SONG SUNG BLUE is a documentary feature film that tells the alternately inspiring and tragic love story of Lightning & Thunder, a homegrown Milwaukee husband and wife singing duo that pay tribute to the music of Neil Diamond. Filmmaker Greg Kohs goes backstage into the personal lives with this brave couple – from their humble beginnings over 20 years ago to the threshold of fame, from disaster to rebirth through to the most dramatic chapters in the lives of these authentic American dreamers. Song Sung Blue is about the uniquely American ability to invent one's self and strive for a seemingly impossible goal. It?s about fleeting celebrity and love and about a couple who manages to maintain their passion for the stage and for one another amid the vicissitudes of life.
ABOUT THE EP
This special score EP contains a cover of Neil Diamonds' "Song Sung Blue" along with 8 moving and inspirational instrumental tracks created specifically for this documentary film by Tony Dekker of Great Lake Swimmers. Great Lake Swimmers is currently signed to Nettwerk Records.
Casiotone for the Painfully Alone and Tony Dekker
Thursday, November 13, 2008 – www.herohill.com
What's that expression? Great minds think alike. Well, when it comes to two of my favorite musicians, that definitely holds true. Owen Ashworth – aka Casiotone for the Painfully Alone – and Tony Dekker – front man for Great Lake Swimmers – have both finished up recording soundtracks in completely unique ways.
The new Casiotone release – Town Topic – is the soundtrack to Laurel Nakadate's debut film, Stay The Same Never Change and apparently Laurel wanted to use classic CftPA tracks to theme her ideas.
That was until Owen decided he wanted to rework his songs specifically for the movie. It's pretty cool to hear the way he opted to change the structure of his work (including removing the lyrics), whether it's just a few subtle additions or a massive retooling.
On the other side of the coin, we have Tony Dekker. He was tasked with sound tracking a documentary entitled Song Sung Blue. The film – directed by Greg Kohs – is an intensely personal look at the life and love of Lightning & Thunder, a husband and wife, Neil Diamond tribute band. Tony wrote over 30 minutes of new music for this, including a gut-wrenching take on Neil's classic, Song Sung Blue.
Ever since Garden State, indie rock has become the defacto choice for young filmmakers to grab the attention of the masses, but fantastic artists taking the time to write all new material for films is few and far between.
Digital Downloads

Zunior
Discogs Store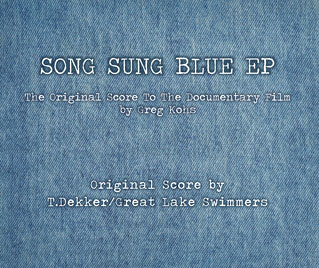 Song Sung Blue
(weewerk 029)2008
Song Sung Blue (Neil Diamond)