"The Apostate" is Art Bergmann's first full length of new material since the Juno winning "What Fresh Hell Is This" and is the follow up to his well-received 2014 ep release "Songs For The Underclass".
Mesmerizing and masterful, "The Apostate" displays a rejuvenated singer songwriter who at the top of his lyrical game, has pushed his sound significantly, creating some of his most dynamic songs ever recorded. More country and eastern folk flavored then previous albums, Art is forging new ground and claiming his forthright place amongst his contemporaries, while continuing to re-establish his brilliant and eclectic past body of work.
The atmosphere featured on this release is at times moody and desperate, but in the best possible way. The use of discordant sounds and instruments nontraditional to cliché rock music helps to create a vast soundscape of impressive scope. It is true art, beyond classification, and evidence of a growth in Art's song writing, musicianship as well as performance.
Recorded this past September with producer Lorrie Matheson at Arch Audio in Calgary, the album features eight newly penned songs and a cast of stellar musicians.
MUSICIANS / INSTRUMENTATION:
Art Bergmann – Electric & acoustic guitars, vocals
Paul Rigby – Steel, acoustic, baritone & electric guitars, mandolin & ebow
Lorrie Matheson – Acoustic & electric guitars, mellotron, organ, pianorgan & chopsticks
Jason Sniderman – Piano, wurlitzer & mellotron
Ian Grant – Drums & percussion
Peter Clarke – Bass
Foon Yap – Violin
Mike Little – Accordion
Natasha Sayer, Emily Triggs, & Nikki Valentine – Vocals
Art Bergmann – The Apostate
Track Listing:
Atheist Prayer – 5:19
Mirage (the Apostate) – 4:57
Cassandra – 5:14
The Greatest Story Never Told – 5:44
Live It Up – 4:02
A Town Called Mean – 4:08
Pioneers – 12.35
The Legend of Bobby Bird – 4:50
All songs written by Art Bergmann Copyright 2016 SOCAN / (weewerk)
Digital Downloads
Discogs Store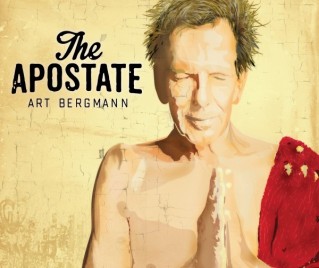 The Apostate
(weewerk) 0462016
The Greatest Story Never Told