Selected Press Quotes For Don Brownrigg
2008 EAST COAST MUSIC AWARD NOMINATIONS – Folk Recording of the Year; CBC Galaxie Rising Star Recording of the Year.
THE COAST: Top 50 CDs of 2007 – Dec 2007 – Don Brownrigg "Wander Songs" – Equally as comforting as a cup of tea, Wander Song's coats listless souls with love and warmth. Don Brownrigg's soft vocals spill tales of love, longing and insightful introspection. Guest appearances by Jenn Grant, Rose Cousins and his poetic platonic lover Tanya Davis on "Time Moves On" merely accent his timelessness.
The Telegram – "It takes the listener in instantly and, like a good novel, keeps you captivated from beginning to end. Acoustic based, the songs don't try too hard and aren't intimidating in any way – it's just beautiful, truthfully written music."
Chartattack Shannon Webb-Campbell September, 2007 – Wander Songs is a winding soundscape of thought, as the album is a personal passage through the roots of friendship, the yearning for love and growing into oneself. Brownrigg is a self-proclaimed thinker, observer and creator. His soft-spoken pensiveness reflects the precision and artfulness of his music.
With a little help from his friends, Brownrigg has created a timeless anthology. Over the course of the past few years he's been simmering, finding his footing around town, lending his keyboard talents to Davis and vocal help to Vanessa MacArthur. He'll soon be found in the liner notes of Jesse Dangerously and The Heavy Blinkers ' upcoming releases. With the aid of skillful engineer Donald Mackay, this quiet background man will soon shine in the forefront.
Digital Downloads
Discogs Store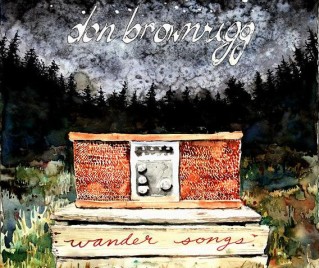 Wander Songs
(weewerk 021)2008
Until The Judgement's Clear