Painting their dust bowl soundscapes with a much more textured brush than ever before, OX jumps down the rabbit hole with their stellar new album, entitled "BURNOUT". Picking up where their acclaimed second full-length, "American Lo Fi' (2006) left off OX combines elements of psychedelic rock with their alt-country & americana tendencies to create an especially warm sound on this seven song treasure.
In 2007, the Vancouver based band relocated to their roots in Sudbury to found Cosmic Daves Sound Emporium, a fully analog recording studio that has set the foundation for years of future indulgencies on tape. "Burnout" represents the swansong taste of West Coast recording for the group and is among the final sessions from the legendary Profile Sound, where Ox's previous two albums were recorded.
The CD version also includes 2 new videos for "Unknown Legend" & "Prom Queen", both directed by John Milne (known for work with Great Lake Swimmers, Masia One, The Salads, Romeo Liquor Store). They both are available for viewing on the bands You Tube Channel at WWW.YOUTUBE.COM/OXFILMS.
Vitals:
"American Lo Fi" (2006) #6 Earshot National Chart (weewerk / Saved By Vinyl)
"Dust Bowl Revival" (2003) #1 Earshot National Chart (Second Nature Recordings)
2 time MFM (Northern Ontario) Award winners for Best Album
4 time Western Canadian Music Award nominee, Best Album & Artist of the Year
Mixed Tape With: Wilco, Elliott Smith, My Morning Jacket, Allison Krauss & Robert Plant, Bright Eyes, The Low Anthem , Ray LaMontagne, The Weakerthans, Plants & Animals
What Folks Have Said About OX:
Toronto Star (Anti-Hit-List – "#1. 'Surrender' & 'Miss Idaho'- Unable to choose between these two songs from "American Lo Fi" the Vancouver band's follow-up to the stunning "Dust Bowl Revival". We finally gave up and picked both of them. The former is an unlikely loping country re-make of Cheap Tricks's signature tune; the latter is a melancholy, Neil Young-ish original that's reminiscent of the sound that Jay Farrar has refined both on his own and with Son Volt, Wilco, and Uncle Tupelo. 'Miss Idaho' certainly holds its own with anything those two gentlemen have done in years."
CMJ WEEKLY – "Parched, weary, aching and rough-edged Americana recalling Neil Young, Wilco and Springsteen… Passionate!"
Drowned In Sound, LONDON UK – "Touchingly organic… like Wilco's early material or Whiskey Town before them, Ox's live set sounds at once both timeless and unmistakably of its era. If there was ever a need to strip music down to its raw elements, Ox has the purity and grace to pull it off. And that's easily enough to raise them high above the crowd."
NO DEPRESSION – "Hauntingly hushed songs of desperation and hard times spiked with references to Trans Ams, Camaros, 8-tracks, skateboards and banana-seat bicycles… there's a cinematic quality to "Dust Bowl Revival".
Digital Downloads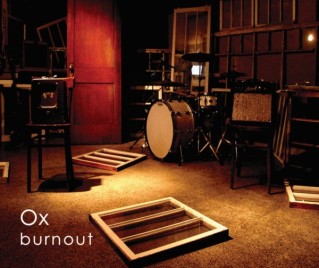 Burnout
(weewerk 034)2009