Picastro, an active force in Toronto's music scene for over 10 years, released their seventh and newest record "Exit" this past June. Led by vocalist, guitarist and songwriter Liz Hysen, this latest offering features the talents of her band, cellist Nick Storring, synthesis Matthew Ramalo (Khora), and drummer Germaine Liu.
On the albums' eight songs, Hysen systematically removes herself from her own stories while playing around with the roles and expectation of the creator as the central voice of their artistic output. While the music still sits in continuity with the bands previous work, Hysen relinquishes her role as singer and storyteller, even adopting male pronouns in her writing, Guest male vocalists including Jamie Stewart (Xiu Xiu), Tony Dekker (Great Lakes Swimmers), Adrian Crowley, Caleb Mulkerin (Big Blood), Alex Mackenzie (Petra Glynt), and Chris Cummings (Marker Starling) were invited to contribute their take on her vision of the songs. Letting these alternative versions run wild Picastro explores how the music and narrative mutates with different voices at the helm.

Picastro has appeared on the BBC, WFMU, VPRO Dwars at numerous festivals including SXSW, CMJ, Rhaaa, Lovely, Tanned Tin and has recorded sessions with La Blogtheque and Daytrotter.


Pitchfork EXIT Review by Stuart Berman – In the late 1990s, Toronto musician Liz Hysen began to use the alias Picastro to distance herself from assumptions about singing-and-songwriting women at the dawn of the Lilith Fair era. Hysen's hushed, spectral songs tapped more into the stewing undercurrents of slowcore and post-rock than traditional folk, anyway. By the time she released Picastro's first proper album, 2002's Red Your Blues, the project had become a full band, one whose revolving cast of local mavericks (including, for a spell, Owen Pallett) reflected her music's mercurial quality. Even as her tensely strummed missives acquired a more expansive sweep on two mid-2000s releases for Polyvinyl, Hysen's voice remained at the core of Picastro, the resolute center of increasingly calamitous environs.
Hysen has long resisted autobiographical interpretations of her writing, and she's often sung from a male perspective to emphasize that these songs are stories, not confessionals. On the appropriately titled Exit, Picastro's first album in five years, she largely steps away from the microphone to let others do the singing, farming out most of the album's eight tracks to a predominantly male cast of guest singers culled from her Toronto peer group and beyond. And instead of simply applying their voices to Hysen's songs, the singers push their personalities to eccentric extremes, driving Picastro toward their most tumultuous, unpredictable, and deviously playful music to date.
Hysen, for instance, has Great Lake Swimmers leader Tony Dekker perform his best imitation of her on the opening "Mirror Age," his honeyed voice proving the subtlest salve to lyrics that blur the line between relationships and addiction: "I don't feel much of anything/All because of you." But Hysen's acoustic finger-picks ultimately rally Matthew Ramolo's sunbeam synths, Nick Storring's trembling cello, and Germaine Liu's clattering percussion through a series of turbulent ascensions and peaceful plateaus toward an ecstatic rekindling of the senses. Unlike most post-rock outfits, Picastro aren't interested in working themselves up into volcanic crescendos; instead, they conjure those early moments of a windstorm, where the dead leaves and street debris start to coalesce into circular patterns, though everything could drift off at any moment.
These songs move slowly, often following a similar path from calm to chaos. Still, each singer makes the songs their own, like a parade of guests taking turns house-sitting the same abode and rearranging the furniture to their liking. "From Come the Speak" oozes gothic dread, with Irish raconteur Adrian Crowley's sinister moan suggesting the grimmest of reapers. On "Blue Neck," Xiu Xiu founder Jamie Stewart's muffled, trembling delivery embodies the anxious nature of a song that starts out like an acoustic doom dirge before getting swept up in a torrent of cosmic klezmer. Even the album's quietest track judders with mischief and unrest: The album's only female guest, Alexandra MacKenzie (aka electro-pop agitator Petra Glynt), absolutely devours the early, Thurston Moore-sung Sonic Youth standard "(She's in a) Bad Mood." Swapping the guitar-charged throb for a piano-based dronescape, MacKenzie displaces Moore's icy cool with a haunted theatricality, reframing his ominous diagnosis as an apocalyptic clarion call.
But Exit's unsettled essence doesn't always serve such a dark vision. On the closing "This Be My Fortune," Hysen teams with Chris Cummings, the art-pop auteur who calls himself Marker Starling (fka Mantler), for a track that qualifies as a romantic duet by Picastro standards. Granted, it's the sort of romantic duet where they seal their pact by harmoniously singing the chorus of the Stooges' "I Wanna Be Your Dog" as if they were serenading each other with "Islands in the Stream" at a karaoke bar. But a synth-flushed swirl dramatically uproots the song like a tornado swallowing a home, a moment that feels as liberating as it is arresting. Where Picastro was once a means for Hysen to sidestep stereotypes, with Exit, she's now successfully redefined what it means to be Picastro at all.
Digital Downloads

Zunior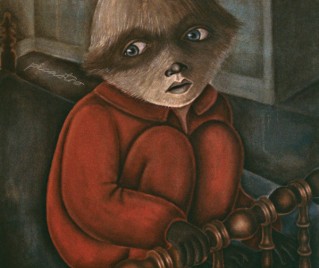 Exit
()2019