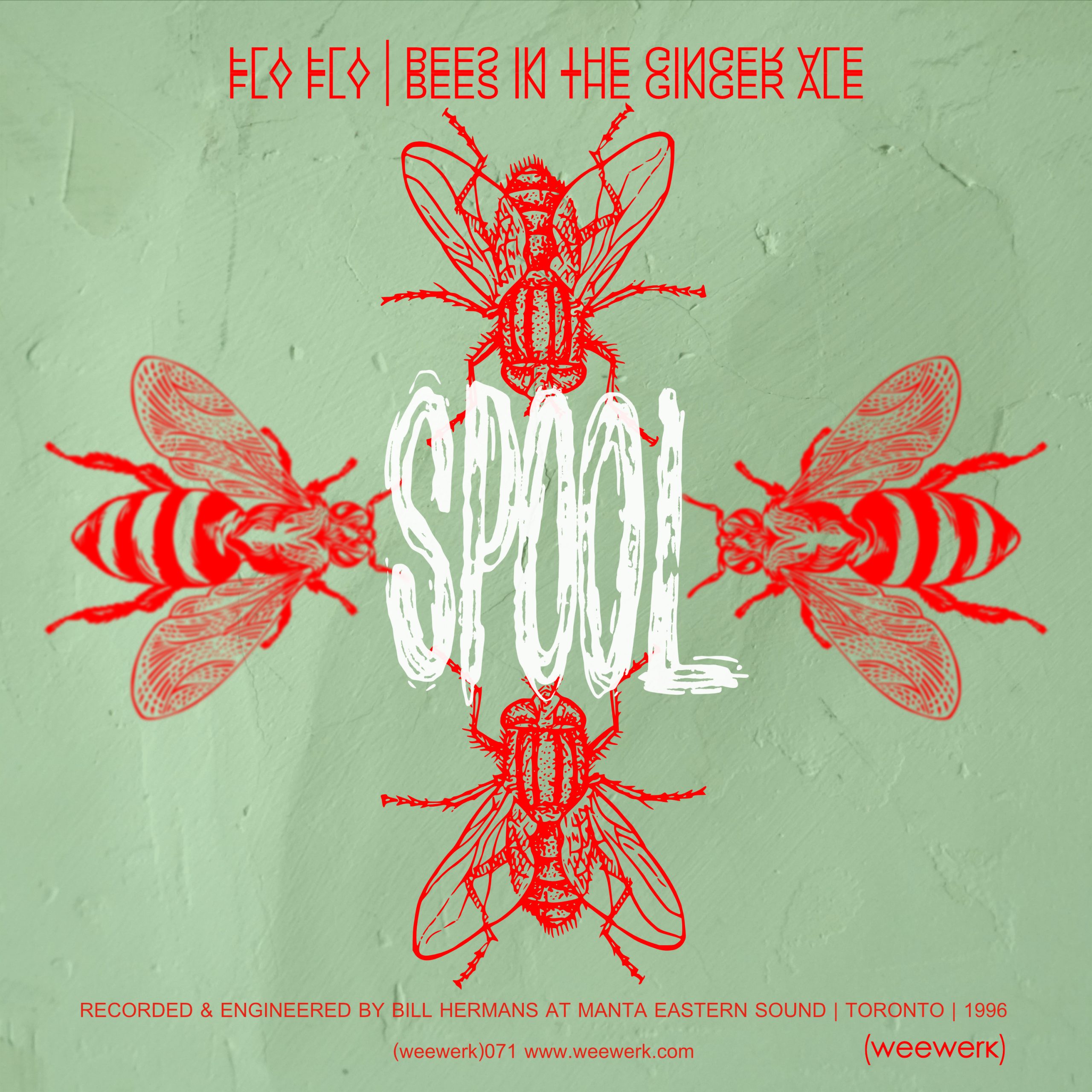 "On invitation from friend and engineer Bill Hermans, London, Ontario based Spool were able to record two tracks in a session at Toronto's infamous Manta Eastern Sound Studio in 1996. Recorded live off the floor in one of the large rooms, the band stuck to its intimate, direct style. "Fly Fly", recorded in one take, is a six beat stomp carried by a bright Rickenbacker bass locked with a rooted drum shuffle. "Bees In The Ginger Ale" showcases Spool's love of melodies, delivered unpredictably. In this case polyrythmically where everything counts three but the drums say "how about four?". The 1996 line-up consisted of Ian Newton on electric guitar and lead vocals, Joel Pylyshyn on drums, Clayton Corneil on bass and Greg Newton on lead guitar. This previously unreleased two song gem of a single is receiving a long awaited digital release by Toronto indie label (weewerk) this May." – Ian Newton
Stream and purchase Bandcamp link to the 7″ songs: https://spool-1992.bandcamp.com/album/fly-fly
Stream and purchase multi-link to the 7″ songs: https://orcd.co/flyfly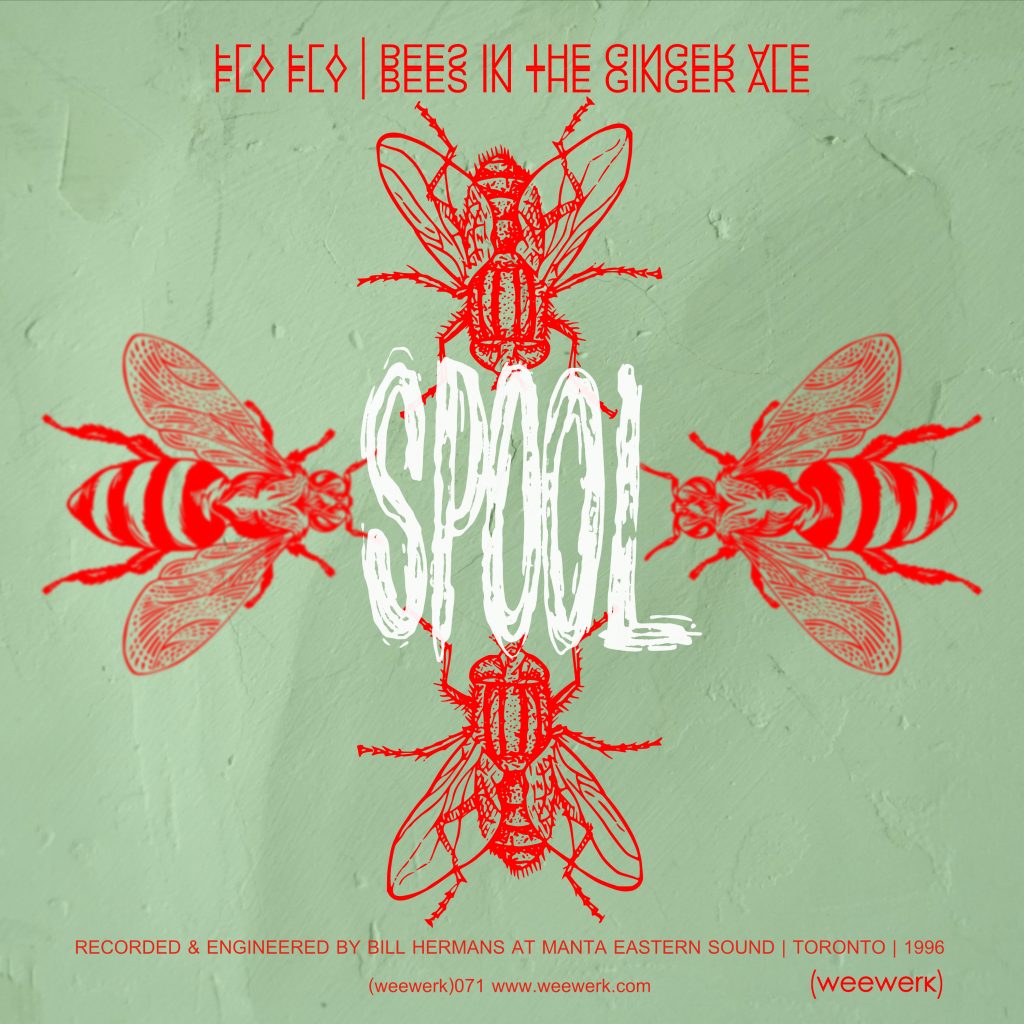 "The early nineties seems like a long time ago now….My most distinct memory from that period is the genuine excitement I felt when I discovered a new band. There were many trips up and down the 401 to places like Guelph, Kingston, London, Kitchener and Ottawa. On one of those trips, with King Cobb Steelie who I managed at the time, we played at the Embassy in London Ontario. Phil Saunders, an old friend, was the promoter there and he booked us a few times a year. That night he also booked a support act for us called Crayon. I used to hear most of the support acts play back then because I was usually selling KCS's merch. When Crayon hit the stage I remember really thinking they were good. That they were doing something different at the time, something that gave me that "feeling". I was in the middle of assembling a compilation for Raw Energy called "On the Road" and Crayon fit in perfectly on that compilation, I was excited to ask them to be a part of it.  Just before the artwork went to print they changed their name to Spool." – Amy Hersenhoren / Collective Concerts
"In every music scene bands emerge that really don't care about becoming famous or playing big shows. London, Ontario's Spool are one of those bands. Intelligent, purposeful and creative, Spool walks into a hallway decorated with 80's alt rock and ground breakers such as The Grifters from Memphis and Stockton, California's Pavement. Staggering in and becoming suddenly erect, walking a straight line, leaning left, leaning right, falling to the floor, jumping straight up and carrying on. Spool is remarkably relevant 25 years later. They captured a zeitgeist that very few were brave enough to paint. The emergence of this unreleased track is emblematic of a band that was always on point in the nineties, in many ways the standard bearers for indie rock during a time of gentrification." – Phil Saunders, Author, No Flash Please: Underground Music in Toronto 1987 to 1992
"‪Spool was an ace 1990s indie band from London, ON. Spool's 1996 unreleased hits "Fly Fly" and "Bees in the Ginger Ale" blast. These songs lift now when liftoff is needed most. Spool: Precisely lumbering beats. Sweet edge guitar textures. Word wit worth unspooling." – Yours in London creativity & general excellence, James Stewart Reaney

SPOOL Band Biography:
More interested in creative expression than prescriptive musical aesthetics, Spool formed in mid-1992 in the wide open space of the emerging post-punk, DIY, independent music scene. Intuitive arrangements, unusual tunings and poetic word play laid the foundation from which to push into a cultural restlessness. Spool was formed by Ian Newton shortly after he picked up a guitar and found himself in the mid-sized Southern Ontario city of London. Bassist Clayton Cornel and guitarist Greggor Gilbert soon joined the band and they made a four-track cassette demo which lead them to drummer Joel Pylyshyn. They played a few bombastic shows under the name Crayon, before changing the name  to the minimalist Spool. Joel suggested the name after reading a short story where a character experiences semantic satiation (temporary loss of meaning) while repeating the word spool over and over.
The band immediately created a local buzz for their colourful , noisy sound, that would push and pull tempo and melodies, feeling like it might implode, then regaining cohesion in a whirlwind of sound and playful hooks grounded in their rhythm section. Spools lyrics, touched on themes of social outcasts, class struggle, climate change and a desire for an alternate cultural vision. They also incorporated humour at times, as in this social commentary song that almost collapses as it crescendos into its two word lyric "Kettle's Boiling".
In January 1993 they rented an empty school house in the small hamlet of Newbury Ontario for a week to record on 1/4″ 8 track tape. Truly DIY, as none of them knew anything about recording, the session produced the sprawling small-run cassette release "Pasting, the Post Dry" which made it's way to the infamous late-night alternative radio show "Brave New Waves" on CBC, Canada's national radio, where they were invited on for an interview. Half of "Pasting the post Dry" was released on Montreal's Derivative Records as "Pieces of Post". In late 1993 Joel left for NYC to attend film school and was replaced by powerhouse drummer Steve McMinn. In 1994 they were invited to Montreal to record a single "Callous Makers" which received good reviews in underground US music press. At the end of the year however, guitarist Greggor Gilbert left the band as he shifted his life, and moved to Montreal. Greg Newton, brother to Ian, who had just returned from time in West Africa was asked to join on guitar. By this point Joel had also returned from New York, and he rejoined the band, completing the final line up of Ian Newton, Greg Newton, Joel Pylyshyn and Clayton Corneil.
This line up never re-visited any of the original pre-1995 songs and they spent the next year writing new material in a rehearsal hall they built above above a used bookstore . This culminated in a 1996 recording an unreleased album titled "All That is in the Middle", an unadorned document of late night sessions recorded in their band hall. Late 1996 saw the band move to separate cities for work and school where it became difficult to continue.
Spool Members:
1992-1993: Ian Newton, Joel Pylyshyn, Clayton Corneil, Greggor Gilbert
1994-1995: Ian Newton, Steve McMinn, Clayton Corneil, Greggor Gilbert
1995-1996: Ian Newton, Joel Pylyshyn, Clayton Corneil, Greg Newton

Spool Discography:
1993 – "Pasting the Post Dry", 15 songs cassette, unreleased
1993 – "New Heaven", Raw Energy Compilation, A&M Records, CD
1993 – "Pieces of Post", 7 song cassette, Derivative Records
1994 – "Callous Makers", 7 inch vinyl single, Derivative Records
1994 – "Entrepreneurs Walk", CHRW London Underground: Dig Deeper, CD
1996 – "All That is in the Middle", 11 songs, Unreleased
1996 – "Turpin's Bastard", Eye Tea Compilation, Entarde Kunst Records, CD
1996 – "Fly Fly" & "Bees In The Ginger Ale" – (weewerk)071 – Digital Single Release: May 7, 2021
1997 – "Sofa Dimes", Felide – A Benefit for the Cedarhill Animal Sanctuary Compilation, Last Exit Records, CD