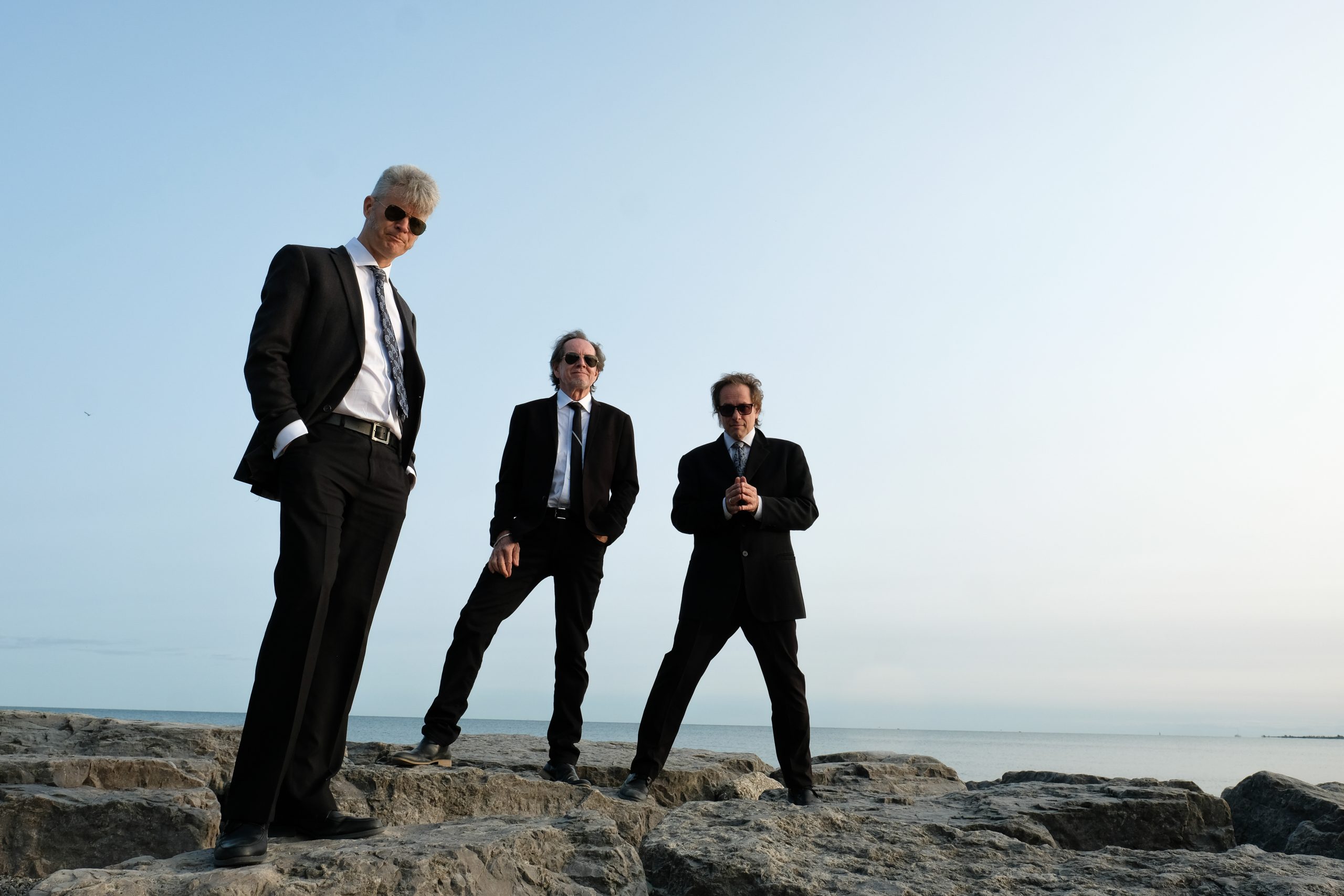 TORONTO ON — Today, Toronto surf rockers Chairmen Of The Boards offer another preview of their hotly anticipated debut album Surfin' The Apocalypse with the track "Run-A-Wave." The band has also produced their first video to accompany the song, a tribute to Del Shannon's immortal "Runaway." "Run-A-Wave" is available now on Bandcamp, ahead of the official release of Surfin' The Apocalypse on Nov. 27 via (weewerk) Recordings, and the video can be seen at GIGSoup.
"Run-A-Wave" proves once again that Chairmen of the Boards are not a typical surf-rock band, Keeping things lean and mean, the new trio consisting of Toronto scene vets Rob Hiemstra (guitars), Leonardo Valvassori (bass) and Gary Craig (drums) blast out 14 instrumentals guaranteed to put a little extra wax on your deck and keep you ridin' the nose through the riptide of daily life.
COTB display the full range of their stunning chops throughout the album on the deliciously funky "Booty Wiggle," the kick-sand-in-your-face-while-I-sip-my-martini swagger of "Dirty Grind," and a cover of one of surf-rock godfather Dick Dale's classic tracks, "Taco Wagon." If you only know surf-rock because of Quentin Tarantino soundtracks, then strap yourself on to get the full experience!
Granted, the beaches on Lake Ontario aren't exactly Malibu but Toronto does contain a small but hardcore surfing community. By extension, there's also a small but hardcore community of surf-rock fanatics, three of whom now comprise Chairmen of the Boards. The seeds were planted when Chairman Rob started bringing original "surf compositions" to Chairman Leo during a residency at Grossman's Tavern, the storied Toronto venue long known as professional musician jam spot. In no time, the pair were working out new ideas, eventually realizing they were building up enough material to make an album.
Enter Chairman Gary, and after a period of intense rehearsals, studio time was booked at prestigious Toronto studio Revolution Recording where his drum tracks were captured. The rest of the album was laid down at Chairman Leo's personal studio The Notebox, where additional sugaring to songs was applied by keyboardist Denis Keldie, pedal steel guitarist General Kevin Neal, and the Hang Ten Horns—Rebecca Hennessy and Carrie Chesnutt. Tracks were then sent to New York for mixing by Grammy winner William Wittman, and mastering by Greg Calbi and Steve Fallone at Sterling Sound.
If you appreciate raw rock and roll with a touch of psychedelia, as practiced by the likes of The Sadies, Beachwood Sparks and even The White Stripes, then Surfin' The Apocalypse will easily fit into your collection or slide onto your favourite playlist.
By the time the sun sets with the closing ballad "Sand Between Your Toes" (a nod to the great surf-rock producer Jack Nitzsche), you'll be ready to pack your board into your Woody and drive back to whatever Hollywood you live in. The Chairmen of the Boards want to help you escape.Members of Chairmen Of The Boards are available for interviews.